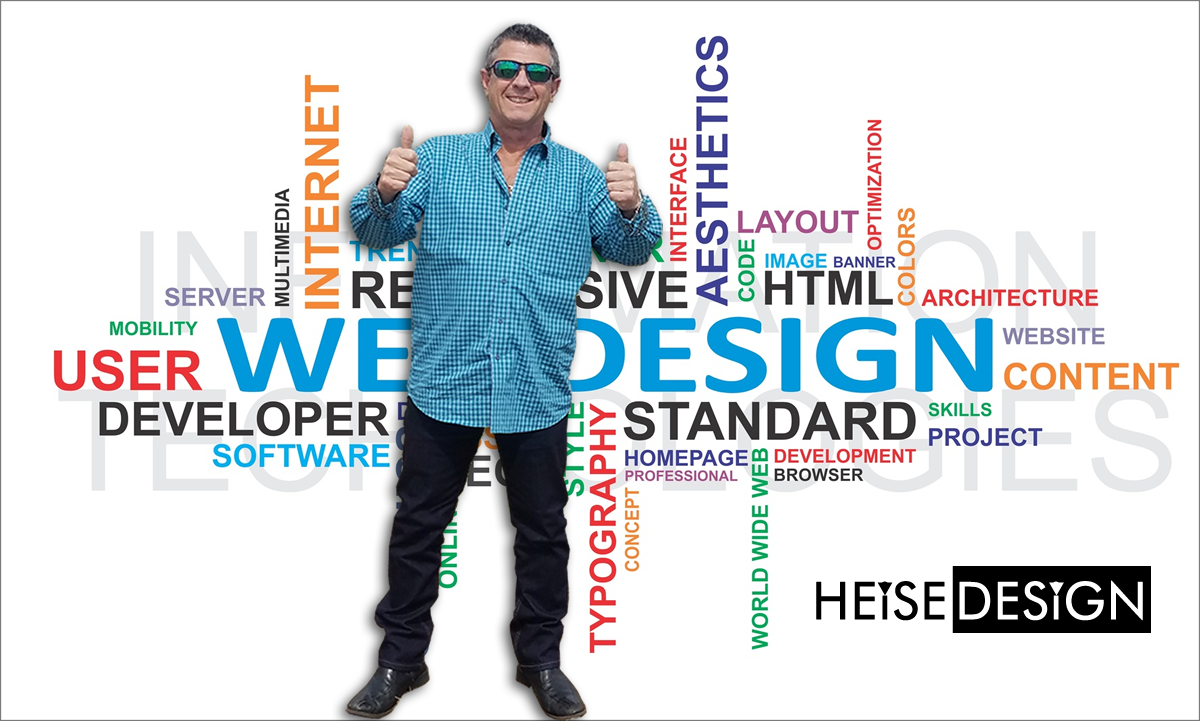 Daniel Heise
website designer and online business coach since 1996
---
It's an ever-changing online world, when it comes to displaying and marketing your business successfully, it pays to know an experienced web guy. When it comes to prospecting, attracting and engaging clients to purchase your products and/or services, it pays to know someone who has "Done it All" – Heise Design! Do you need to process credit cards online – I can set that up for you. Need to get more relevancy on Google searches – I'll optimize your site so Google will love you. Don't have time to maintain your shopping cart or site's Content (CMS) – we'll train you or maintain it for you. Can't be bothered with monthly eMail blasts to customers – we do that too. The fact is that since 1996, I've been setting up successful companies and businesses on the internet, not to mention several successful retail and wholesale operations of my own. I've learned about internet business from my 20 years of experience – building, hosting, marketing and optimizing websites.
We are famous for attention to detail, inspirational design and quality code. We craft powerful, engaging experiences across multiple platforms and devices. Combining our wealth of industry experience and know-how with our addiction to perfection, we can do great things for you and your business. We love to forge lasting, fruitful relationships with our clients using our tried and tested process, excellent communication, competitive pricing and ultimate transparency.
Since 1996 I've been writing web code, designing killer business websites, hosting domains and marketing online, but that was an effort for my own online businesses where I became web-wise. Now I'm offering a wealth of education / consultation and implementation to my clients. I'm basically helping others understand the Internet mechanism and how to keep their sites on top by educating them and creating engaging multimedia websites with search engine optimization, social media connections and mailing list services. I have the solutions to your online business frustrations and dilemmas that are tailored just for you including but not limited to: Website Design, high speed website hosting plans for every budget, domain registration assistance, Enterprise level Content Management Systems and ECommerce shopping carts (and all the questions that go with it) – for your online retail company.
Hit me with your hardest questions and let's see how we will get you back on track to success online. The internet is constantly changing so you've got to have a trusted web guy on your side at all times. Heise Design.
Our latest designs will have consistency, flow and functionality using state-of-the-art website building technologies. Your site will be easily legible and comfortable to use on all touch screen sensitive devices like CEL phones, iPads, tablets and laptops.
Sure you can build your own site but there really are no do-it-yourself site builders that will give you experience. Now YOU can even edit and control what content is on your site through a robust Content Management System (CMS) which puts you in full control of your content, shopping cart, blogs, forums or social network system.
---
 SUMMARY OF OUR SERVICES
Our websites are made:
for search engines
Great Clean code
Great content
for your site visitors
We help your website visitors do what you want them to do
We help your website visitors do what they want to do, making them want to come back for more
to reflect your organization
style, colors, logos, consistent brand representation across all marketing channels
to look and work great in most browsers and on all devices – cross platform & responsive
In other words, sites that work great in smart phones and tablets, whether iPhone, iPad, Droid, Galaxy, and so on
Sites tested in Chrome, Firefox, Safari, Opera, Internet Explorer versions 7, 8, and 9
to load quickly & so your visitors don't hit the back button
for people of all abilities and disabilities to use (accessible, Section 508, & ADA compliant)
Experience is the Key!
Dan is an expert at Internet website design having created over 200 sites and actually running 25 sites of his own. Dan's skillsets include, Search Engine Optimization, PHP Code Manipulation, WordPress & Joomla! CMS Architectures, CSS3 Stylesheets, HTML5 coding, Multi Media, EMail and Social Media Marketing, Audio/Video Production and editing including voice-overs, song writing singing and performing, online marketing and web design coaching, and that just touches the surface.
Business experience includes CEO of AMDEX (Unbeatable.com one of the first online catalogs from 1998-2004 – sold it), HeiseDesign :: Designing & Hosting, ShoreChic, an online and brick & mortar retailer in Red Bank, NJ (sold company). Click the "Our Work" button to see samples of some great looking and effective websites by HeiseDesign. Make us part of your team and we'll show you how to make it online. We have a small team of experts in key technology fields to insure the success of your business website.
Website EComm Business Experience

100%

Brand Identity Strategy

100%

Internet Marketing

100%

Website Development

100%

Satisfied Happy Clients

100%

MadFast™ Hosting Uptime Guaranteed

99.9%
We offer:
outstanding customer service
installment payments
one-stop shopping (website design, development, & maintenance, web hosting, domains, and more)
custom web design
website redesigns
WordPress OR JOOMLA! template website installation and customization
(These are content management systems or CMS's for the DIY owner – not just for blogs!)
WordPress ECommerce Sites
Business news sites in WordPress™
You can also go a la cart!
We can work with any existing services you have such as web hosting, and other web designers and developers.
Just let us know what you need.